---
Master Piano Technicians' 
Annual Convention
SNOWBIRD, UTAH
June 27 – 30, 2021
Join us this summer at the beautiful Cliff Lodge and Convention Center in the heart of the world famous Snowbird Resort. Up Little Cottonwood Canyon, Snowbird is located just 40 minutes away from the Salt Lake City, Utah Airport.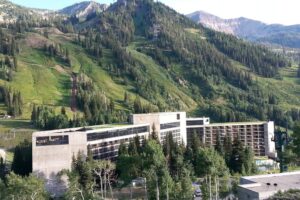 Come escape the summer heat and humidity and experience cool, clean mountain air at an altitude of 8000 feet. Enjoy breathtaking scenery and be surrounded by first class amenities and dining opportunities! We'll be riding a tram up to the Summit Restaurant at 11,000 feet and dining on artisan pizza while we take in the incredible views.
There are lots of activities for families and kids and, of course, some fun touring opportunities for significant others! A beautiful spa and outdoor pools await, as well as plenty of hiking and strolling opportunities.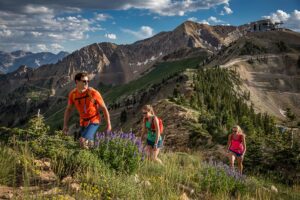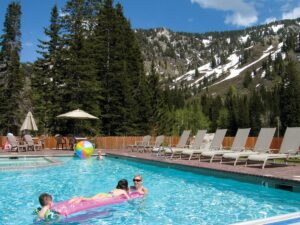 ---
Schedule Specifics include:
June 27 Sunday:    Evening Meet and Greet at the Alta Peruvian Lodge 5 – 7 pm
June 28 Monday:  Classes from 9 – 12 then 2 – 5.
Lunch (provided) and business meeting 12:30
7:00 pm   MPT Banquet catered by Wallaby's Smokehouse at the nearby Alta Peruvian Lodge
June 29 Tuesday:    Tuning lab demonstration 8 – 9 am. Classes from 9 – 12  then 3 – 6.
At 12:30 we'll take the tram to the top of the mountain (11,000 feet) for artisan pizza lunch and views.
Dinner together at the Steak Pit (not covered in the registration cost) and our final together time. 7:30 pm
June 30 Wednesday:    Final class from 8:30 – 10:00
Checkout of rooms by 11:00 am
During the daytime spouses/families can relax at the beautiful outdoor pool, take in the spa, enjoy hiking and other outdoor activities. On Monday there will be an excursion down to SLC during the day for spouses; options include the welfare program tour (amazing), the genealogical library, city creek shopping mall, and other local sites.
---
Cliff Lodge Room Reservations:   
Assure yourself Cliff Lodge room reservations now at the MPT Convention rate: (includes all room taxes/resort fees)
Standard bedrooms: $196.00 per night single or double
Deluxe Bedrooms: $275.00 per night single or double;
Spa Level Rooms: $275.00 per night single or double
There are a limited number of rooms so reserve yours now!
Room reservations can be made by calling (800) 453-3000;  or by going online at reservations.snowbird.com — use the group code 2CS5QS.
---
MPT Convention Class Details:
Classes will be held on the top floor of the Cliff Lodge with amazing views of the mountains.  Instructors include:
 Rick Baldassin – Carl Teel – John Gallen – Robert Conrad – Vince Mrykalo – Jim Busby
CONVENTION REGISTRATION:
Registration Deadline is June 21
MEMBERS CURRENT WITH THEIR DUES:
OPTIONS:   Full Convention (includes 1 ticket for Monday night banquet) $195 USD
Single Day Rate  $100 USD
Additional Banquet Guest $25 USD
FOR NON OR NON-CURRENT MEMBERS:
OPTIONS:   Full Convention (includes 1 ticket for Monday night banquet) $260 USD
Day Rate  $165 USD
Additional Banquet Guest $25 USD
---
Full registration includes one banquet ticket for Monday Night Banquet and Monday lunch as well.  If you either are not current with your 2021 dues or are a non-member, please pay the non-member rate as it includes the $65 application/renewal fee. Monday Banquet additional guest tickets may be purchased for $25 each.
For further questions, contact:
Derek Furch, 2021 Convention Director, derek@accentpianotuning.com
text: (801) 540-3144